Learn Arabic with Alif Institute!
Choose from in-person,

live online, 

private tutoring (individuals or groups), and study abroad!
Why choose Alif Institute for your Arabic learning journey?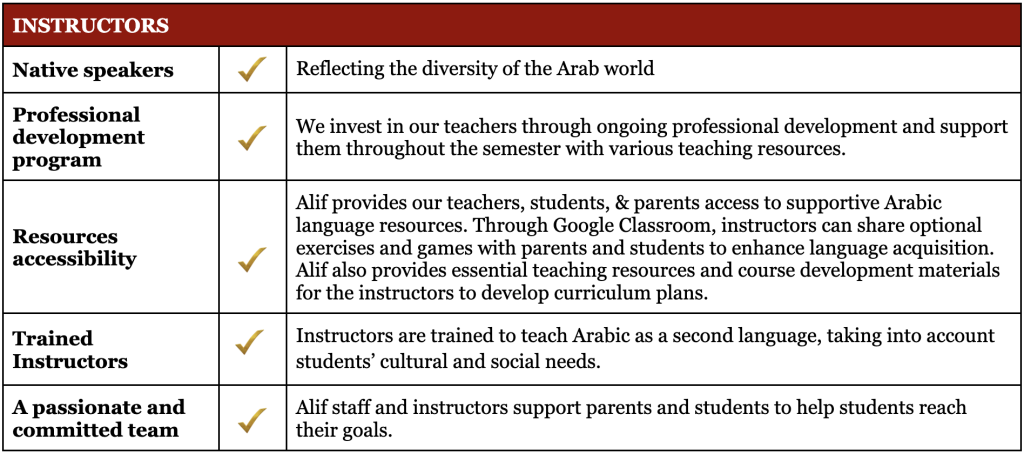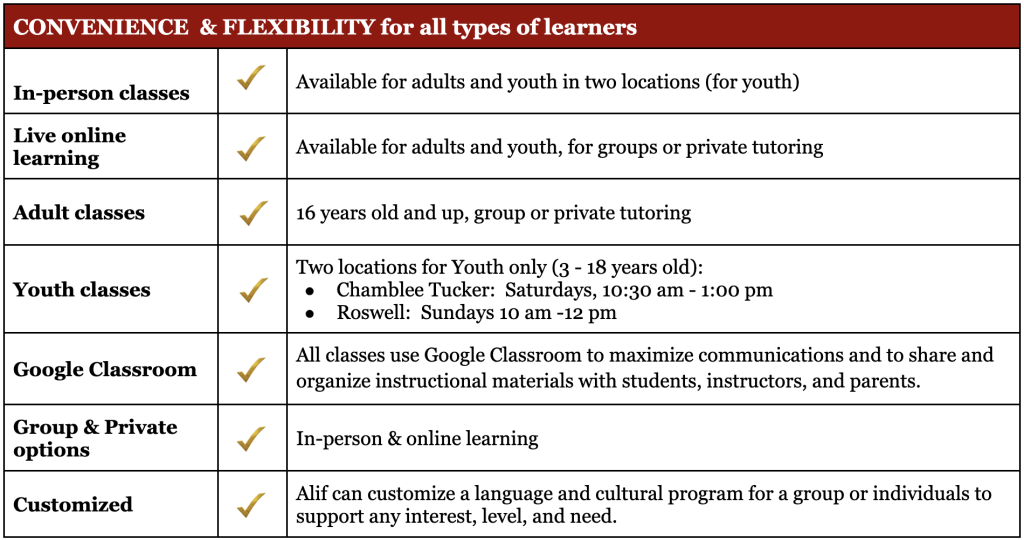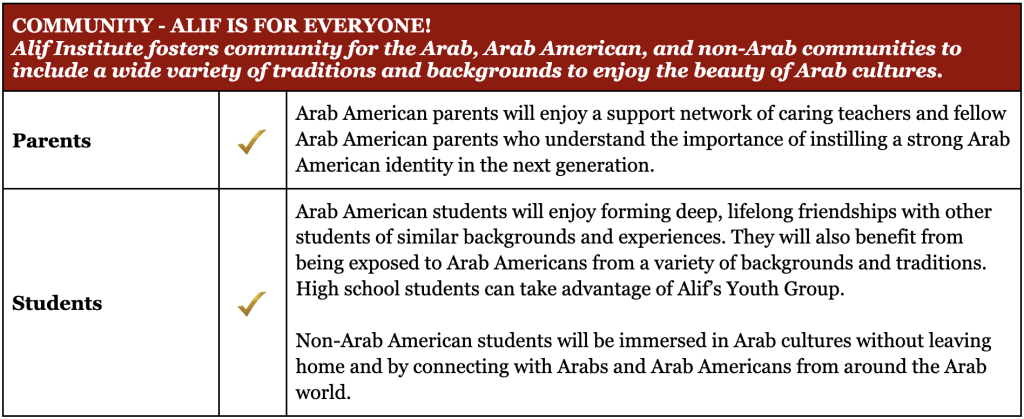 Alif Institute is the only non-profit, non-religious, and non-political Arab-American cultural center one of its kind in the Southeast. We are known regionally and nationally for our cultural and linguistic programming, community engagement, and annual Arab-American Festival.
Located in Atlanta, Georgia, we have access to diverse Arabic-speaking communities from several generations, backgrounds, identities, and affiliations. Our mission is to foster the education and appreciation of Arab cultures. In our Arabic programs, you not only learn about Arabic literary contributions, grammar, and how to pass a test in a classroom, but also and more importantly, you learn to interact with a diverse array of Arabic-speakers and Arab-Americans in everyday settings, how to navigate grocery stores, order at restaurants, proper conduct during home invitations, professional business settings, at the doctor's office, etc. while learning to cook, write calligraphy, listen and play music, in a transformative curriculum were you acquire a critical understanding of history and stereotypes, developing your intercultural and global competence skills, and not shying away from the hard questions. 
Alif is also a partner for many organizations such as the QFI Arabic Teachers Council of the Southeast, Georgia Arabic Teachers Association, Georgia Arabic Student Association, etc. As a community member of the Greater Atlanta Coalition for Global Education and Research (GAcGEAR), we are committed to graduating students with global competence, ready to compete in the 21st-century workforce.
Generally speaking, Modern Standard Arabic (MSA) is a form of Arabic used to interact with books and official mediums of communication (legal documents, news, etc), most of which require an editor. MSA is not a language anyone grows up speaking, rather it is a language that is acquired through formal schooling. The more fluent and fluid one speaks or writes MSA, the more educated one presents themselves. However, when MSA is used in everyday contexts, it may not be understood and, in most regions, sounds like you are speaking Shakespearian English while ordering coffee at a cafe. 
Arabic dialects are forms of Arabic spoken by Arabic speakers at home and in everyday scenarios. Dialects vary from one region to another with many sub-dialects also present. The further the dialect regions are from each other the more of a chance they have of not being fully understood. Generally speaking, Arabic dialects are traditionally not taught in school and required immersion among locals. 
Since both MSA and Arabic dialects are living languages, and basic science tells us that everything that is living is in a state of constant change, so are these languages. Classical Arabic was in this state of constant change until its vocabulary became frozen to the medieval period. Classical Arabic is still used today (especially in sermons, to access older works, write classical poetry) and MSA is a modern form of the Classical written language. In the Arabic-speaking world, Classical and MSA are lumped together in one term known as fuṣḥā. 
To be highly proficient in Arabic for everyday and professional settings, one is required to be fluent in a dialect and have various degrees of fluency in MSA and Classical Arabic. The field of Teaching Arabic as a Foriegn Language (TAFL) remains split between what Arabic should be taught and when. The integrated approach combining dialect and MSA is gaining popularity in the US and Europe. New to the field as well is the turn toward multilingualism. Interesting and exciting times lie ahead for the field. 
So, what dialect should you learn? The answer lies in which population you wish to interact with the most. If it's only to read books, then MSA and Classical. If it is people, know that Arabic speakers communicate across dialects through multilingual and cross dialect code-switching which may or may not incorporate MSA and non-Arabic languages. Arabic, as a living language, is also going through a process of mother tongue-based cross-spectrum communicative hybridization known as al-lahjah al-bayda'. Rarely, if any, is MSA alone used in these everyday contexts among Arabic-speakers as a whole. But the more MSA you know, on top of a dialect or dialects, reflects the more educated you are. Arabic speakers pepper their every day with MSA and Classical Arabic to sound formal and authoritative, similar to how American English speakers interpolate French or Latin phrases or terms.
Per the GAcGEAR, Global competence is the ability to:
Communicate in the language of the people with whom one is interacting.
Interact with awareness, sensitivity, empathy, and knowledge of the perspectives of others.
Withhold judgment, examining one's own perspectives as similar to or different from the perspectives of people with whom one is interacting.
Be alert to cultural differences in situations outside of one's culture, including noticing cues indicating miscommunication or causing an inappropriate action or response in a situation.
Act respectfully according to what is appropriate in the culture and the situation where everyone is not of the same culture or language background, including gestures, expressions, and behaviors.
Increase knowledge about the products, practices, and perspectives of other cultures.
Global competence is developed and demonstrated by investigating the world, recognizing and weighing perspectives, acquiring and applying disciplinary and interdisciplinary knowledge, communicating ideas, and taking action.
Global competence is a critical component of education in the 21st century, as reflected in national initiatives focused on literacy and STEM at the PK-12 level and included in the essential learning outcomes of the Liberal Education and America's Promise (LEAP) program of the Association of American Colleges and Universities (AAC&U).
With these goals in mind, we have created a variety of language programming. Contact us to learn more about our:
multi-destination study abroad program for college students
domestic intensive program for high school and college students
domestic summer programs for middle school students
customized programs
regular course offerings
supplemental programming for K-20 and other institutions