September 30 – CONCERT
October 1 & 2 – FESTIVAL
FREE admission to the festival!
Enjoy a week-end filled with Arabic flavors, sights and sounds! Enjoy unique live performances on the stage. Embark on a culinary tour at the Arab world food court. Shop for little treasures at the bustling souq. Explore fun activities and enjoy the games and rides. Then when you feel like relaxing, visit our interactive exhibit! 

Photo Contest:
What Arab Cultures Mean to Me
Submit your original photo (or photos – up to three per participant) with a short explanation of how the photo reminds you of Arab cultures. Note that by submitting your photo you are agreeing that Alif Institute has the right to use it in the future (with attribution).
The winners of the contest will have their photographs printed and displayed at our 15th Annual Atlanta Arab Festival!
LOCATION
Alif Institute
3288 Marjan Drive, Atlanta, GA 30340
DATES AND TIMES
Kick-Off Concert: Friday, September 30
Festival:
Saturday, October 1 & Sunday, October 2 from 11 AM – 6 PM
Special activities:
Saturday, October 1 from 6:30 PM – 9:30 PM

PARKING
Parking is FREE! Please follow the signs on Presidential Parkway.
THINGS TO REMEMBER:
No pets.
No smoking.
No weapons.
No distribution of political, religious, or other non-authorized materials.
Thanks to our amazing sponsors!
---
---
2022 Festival Schedule
Stay tuned for more info. If you'd like to apply to perform, please click HERE to send us an email!
Tour the Arab Nations  – A tour to explore and discover beautiful lands and landmarks.
Guided Lessons – Learn how to cook hummus or write your name in Arabic, or try out some new dance moves!
Photo booth – Snap a picture in Petra in Jordan, or the Pyramids in Egypt or at the Pigeon rocks in Lebanon!
Fun fact corner – Posters of Arabic Poetry and Prominent Arab-Americans
Folk Art of the Arab World – Displayed in Alif's main hall. To get the best of this exhibit, visit during one of the guided tours.
Windows to the Arab World – From the Middle East to the South East
Embark on a culinary tour at the Arab world food court.
The largest selection of Arabic restaurants and caterers will be in our food court to embark you in a flavorful culinary experience! 
Shop for little treasures at the bustling souk.
Paintings, jewelry, embroidery, art work, decorative items, Arabic food, and so much more to browse through and take home with you!
Meet local artists and artisans at the Bazaar.
This new section features local artists and artisans from around Atlanta with their handmade creations! Come out and show your support for the local talent!
Explore the fun activities, and enjoy the games and rides.
New activities and games for children and adults! Arts and crafts, henna, Arabic calligraphy, face painting, carnival games, bouncy castle, obstacle course, sports challenges, backgammon and card games!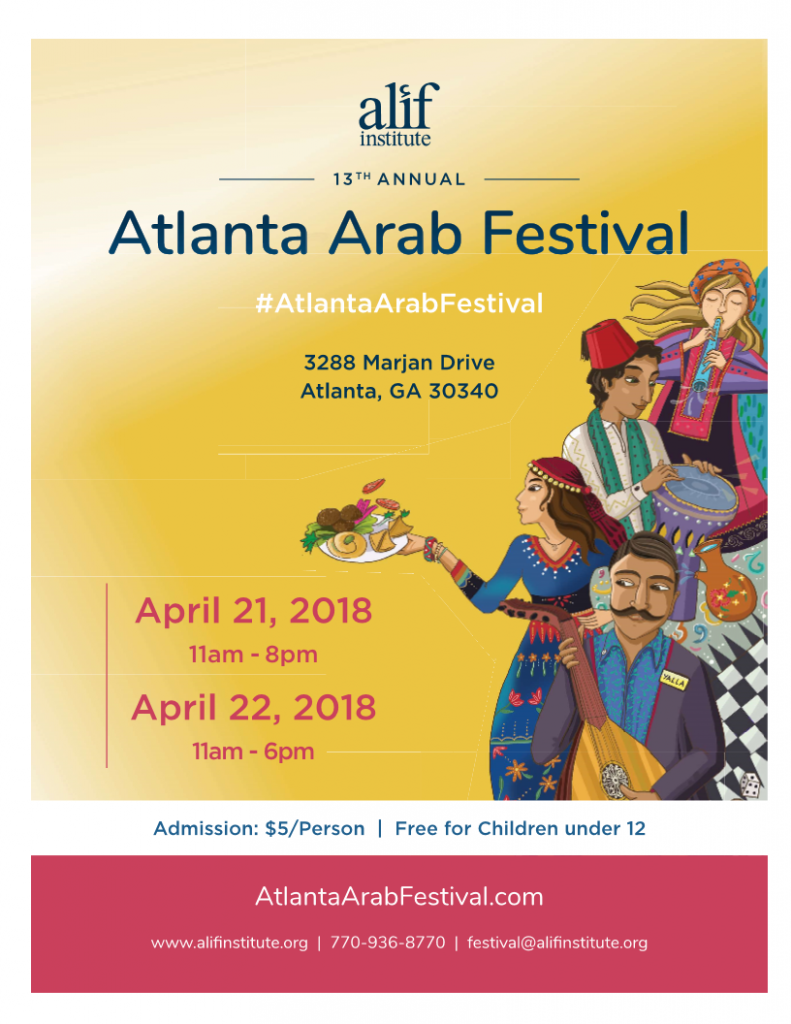 In 2006, Alif Institute organized its first Arab American Family Day. The event featured educational displays about the Arab culture and Arab Americans, live music performance, folk dancing, traditional Arab costumes show, and various activities for children.
In 2010, the Family Day was grown to a two day event and renamed Atlanta Arab Festival. The Festival also included the participation of local artists, food providers, businesses and organizations.
Over the years, the event became an annual tradition that the community enjoys and looks forward to. In 2013, the Atlanta Arab Festival grew in numbers and drew over 3,500 attendees, more than double the number reached in 2010!
Continuing in it's path of growth, 2017 was the biggest year ever! Over 5,000 visitors enjoyed the largest selection of restaurants, vendors, children's activities, and performances! Several community/humanitarian organizations joined the festival and contributed to educate and engage the public. On the festival stage the performance by the National Arab Orchestra musicians impressed everyone. After all of these wonderful activities, Atlanta Arab Festival guests were able to relax in the largest, authentic Arabian tent in Atlanta!