September 30 – October 1, 2023
11 AM – 6 PM | FREE ADMISSION!
Location:
Alif Institute
3288 Marjan Drive, Atlanta, GA 30340
Parking:



Please follow the signs on Presidential Parkway.
Things to remember:
– No pets
– No smoking
– No alcohol
– No weapons
– No distribution of
political, religious, or other non-authorized promotional materials
What is the Annual Atlanta Arab Festival?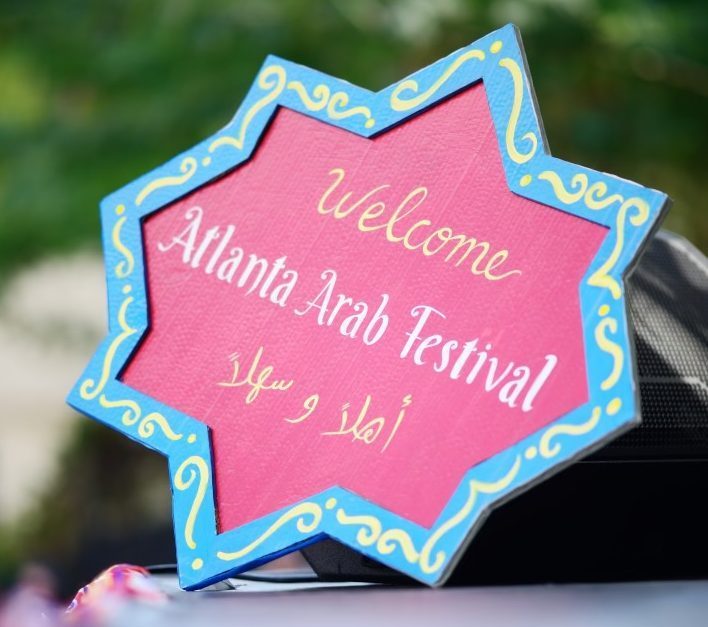 Enjoy a week-end filled with Arabic flavors, sights, and sounds!
Enjoy unique live performances on the stage.
Embark on a culinary tour at the Arab world food court.
Shop for little treasures at the bustling souq.
Experience our exhibits, workshops, games, and other fun activities. 
For more information contact us at festival@alifinstitute.org.
As part of Alif Institute's mission to foster the education and appreciation of Arab cultures, the Atlanta Arab Festival (AAF) is an annual event designed to celebrate Arab cultures, celebrate and experience Arab and Arab-American heritage, promote and enhance cultural exchange, and build community.

The AAF draws attendees reflecting the diversity of the Atlanta metropolitan area and beyond. Over its history, the number of attendees has steadily increased, from 300 attendees in the first years to over 6,000 in 2022. The AAF supports Arab American artists, artisans, and businesses. AAF participants feature some of the best Arabic restaurants, caterers, and artists, as well as a diverse group of businesses, nonprofits, and organizations. Adults and children alike enjoy the delicious food, the unique performances, the rich cultural exhibits & workshops, the engaging games and activities, and a real taste of Arab cultures. 
The Atlanta Arab Festival is organized by Alif Institute, a nonprofit, tax-exempt, educational, and cultural organization. Alif's mission is to foster the understanding and appreciation of Arab cultures; our vision is to connect humanity through the power of arts and culture. Since its founding in 2004, Alif Institute has been offering Arabic language classes as well as a variety of cultural activities including, but not limited to, film screenings, art exhibits, concerts of renowned artists, and lectures by researchers and authors. The Institute welcomes people from all backgrounds and its events are open to the general public.
If you'd like to see your business, organization, or name on this list, please click HERE!


– Mr. Amjad Ibrahim
& Mrs. Mouna Abdelhamid –
– Anonymous –
– The Ayoub Family –
– Mr. Wassim Hojeij –
– In Memory of Mr. Arafat Imam –
– Mrs. Angela Khoury –
– Mr. Mustafa Saadi –

– Anonymous –
– Ms. Nadia Mahmoud –
– Mrs. Samar Sulieman –
–  Anonymous  –
–  The Halaby Family  –
–  In Memory of Mr. Arafat Imam  –
–  In memory of Mr. Elias Haddadin  –
–  Dr. Yazan & Dr. Rima Houssami – 
–  Dr. Shajih & Mrs. Ghada Muhanna  –
–  Mr. Dimitri Shreckengost  –
–  Ms. Alta Schwartz & Mr. Richard Gale –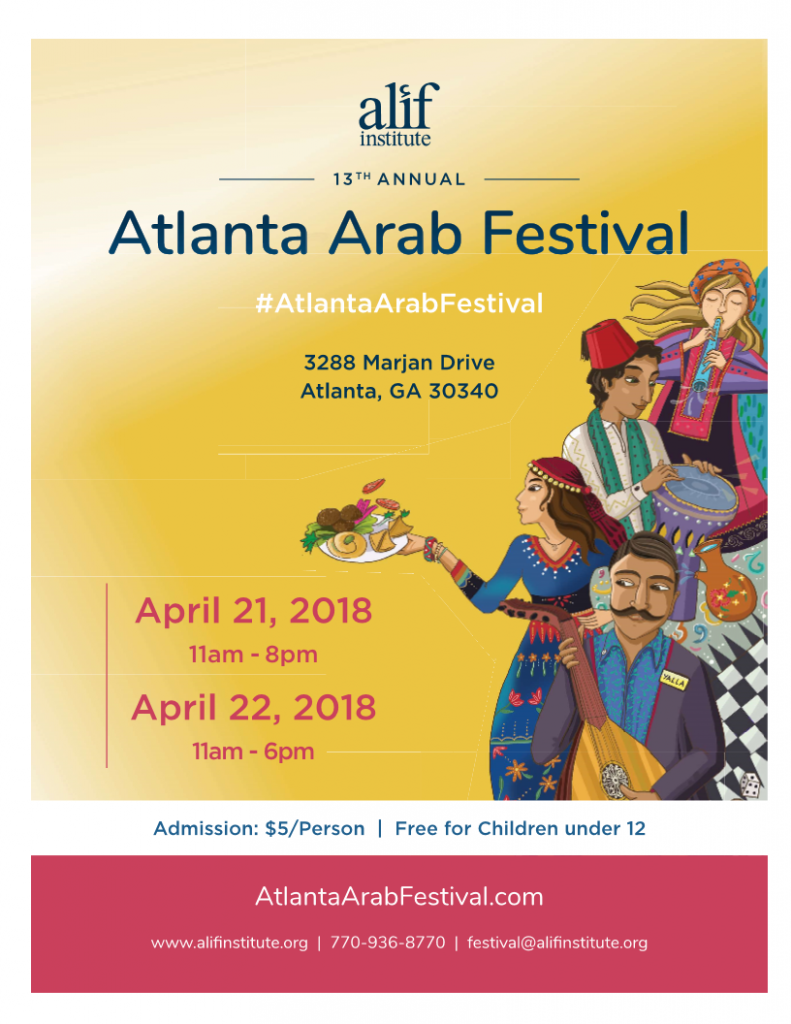 In 2006, Alif Institute organized its first Arab American Family Day. The event featured educational displays about the Arab culture and Arab Americans, live music performance, folk dancing, traditional Arab costumes show, and various activities for children.
In 2010, the Family Day was grown to a two day event and renamed Atlanta Arab Festival. The Festival also included the participation of local artists, food providers, businesses and organizations.
Over the years, the event became an annual tradition that the community enjoys and looks forward to. In 2013, the Atlanta Arab Festival grew in numbers and drew over 3,500 attendees, more than double the number reached in 2010!
Continuing in it's path of growth, 2023 was the biggest year ever! Over 6,000 visitors enjoyed the largest selection of restaurants, vendors, children's activities, and performances! Several community/humanitarian organizations joined the festival and contributed to educate and engage the public. On the festival stage the performance by the National Arab Orchestra musicians impressed everyone. After all of these wonderful activities, Atlanta Arab Festival guests were able to relax in the largest, authentic Arabian tent in Atlanta!