16th Annual Atlanta Arab Festival
September 30 – October 1, 2023

More details coming soon!


October 8 & 9, 2022
 11 AM – 6 PM  |  FREE ADMISSION!
Enjoy a week-end filled with Arabic flavors, sights and sounds! Enjoy unique live performances on the stage. Embark on a culinary tour at the Arab world food court. Shop for little treasures at the bustling souq. Experience our exhibits, workshops, games, and other fun activities.  For more information contact us at festival@alifinstitute.org.


Thank you, Platinum Sponsors!
Thank you, Gold Sponsors!
Nawal & Hisham Araim Foundation​
Thank you, Silver Sponsors!
Thank you, Bronze Sponsors!
Thank you, Copper Sponsors!
Thank you, Individual Sponsors!
Arab American Women's Society of Georgia
Mr. Jim & Mrs. Susan Anderson
Mr. Khaldoon & Mrs. Samira Bregeth
Mr. Fourat & Mrs. Jennifer Dawood
Mr. Jawdat & Mrs. Malak Ead
Dr. Nazih and Mrs. Marlo Elchahal
Mr. Michael & Mrs. Naomi Halaby
Mrs. Cheryl Imam
Mrs. Angela Khoury

Dr. Muin Khoury & Dr. Rima Khabbaz
Dr. Shajih & Mrs. Ghada Muhanna
Mr. Fawaz & Mrs. Widad Saad
Mr. Mustafa Saadi
Mr. Hatem & Mrs. Mariem Sellami
Mr. Mark & Mrs. Helen Ayoub Shuford
Mr. Dimitri Shreckengost
Mr. Bassem & Mrs. Yasmin Toukan

LOCATION
Alif Institute
3288 Marjan Drive, Atlanta, GA 30340
DATES AND TIMES
NEW DATES!
Saturday, October 8 & Sunday, October 9
11 AM – 6 PM

ADMISSION
Admission is FREE!

PARKING
Parking is FREE!
Please follow the signs on Presidential Parkway.

THINGS TO REMEMBER:
No pets.
No smoking.
No weapons.
No distribution of political, religious, or other non-authorized materials.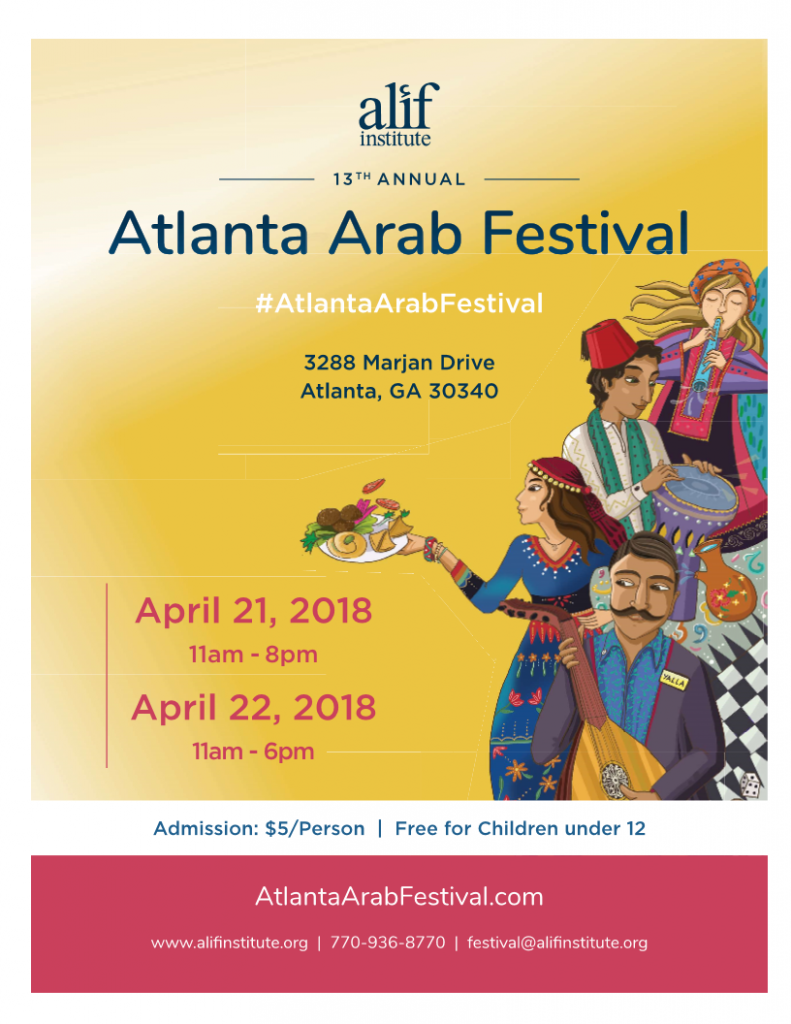 In 2006, Alif Institute organized its first Arab American Family Day. The event featured educational displays about the Arab culture and Arab Americans, live music performance, folk dancing, traditional Arab costumes show, and various activities for children.
In 2010, the Family Day was grown to a two day event and renamed Atlanta Arab Festival. The Festival also included the participation of local artists, food providers, businesses and organizations.
Over the years, the event became an annual tradition that the community enjoys and looks forward to. In 2013, the Atlanta Arab Festival grew in numbers and drew over 3,500 attendees, more than double the number reached in 2010!
Continuing in it's path of growth, 2017 was the biggest year ever! Over 5,000 visitors enjoyed the largest selection of restaurants, vendors, children's activities, and performances! Several community/humanitarian organizations joined the festival and contributed to educate and engage the public. On the festival stage the performance by the National Arab Orchestra musicians impressed everyone. After all of these wonderful activities, Atlanta Arab Festival guests were able to relax in the largest, authentic Arabian tent in Atlanta!