Traveling Exhibit
Explore the richness and diversity of ARAB CULTURE from the convenience of your doorstep!
Thanks to a generous grant from the One Region Atlanta initiative of the Community Foundation for Greater Atlanta, the Alif Institute has developed an informative traveling exhibit designed especially for educational, community, or government organizations.
What Does the Exhibit Include?
When you arrange to have Windows to the Arab World displayed at your organization, Alif Institute staff and trained volunteers will bring:
VISUAL DISPLAYS
The exhibit display includes three portable columns presenting posters that explain six important topics about Arab culture: Geography, Arabic Language, Music, Architecture, Religion, and Our Stories: Arab American Individuals and Organizations in Georgia
In addition to the poster display, the exhibit includes a display of cultural artifacts: textiles, musical instruments, decorative items, books authored by Arabs, folk art, …
LIVE PRESENTATIONS AND DEMONSTRATIONS
The presentation about the exhibit can also be complemented with various live demonstrations such as dance, Arabic calligraphy, music or even cooking!
INTERACTIVE ACTIVITIES 
Interactive and fun activities tailored to each individual audience are also provided.
Sharon Hermann, Primary School Librarian at Atlanta International School , described her experience with the exhibit:
"We thought it was wonderful and fun to see how much the students enjoyed the displays and activities. The younger students particularly enjoyed learning about the Hamsa Hand and creating their own. Tracing Arabic letters was also a popular activity."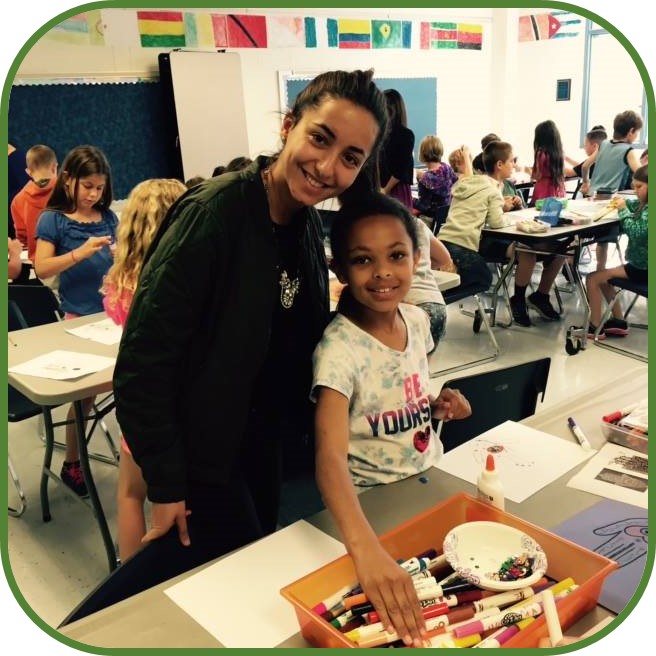 Partnering with StoryCorps
Tell us YOUR STORY!
Because we believe that everyone has an important story to tell, Alif Institute is proud to be a Community Archive with StoryCorps. The process is very easy and enjoyable; you can even choose to do your interview in English, Arabic, or a combination! You and a companion will use their professional recording booth with the help of a friendly StoryCorps professional. Just find someone to go with you, schedule a time using the local StoryCorps web page and have a great time telling your story. If you are Arab or Arab American, please let us know if you would like help setting up your interview.
Who can request this exhibit?
Bringing this exhibit to the community directly fulfills the core mission of Alif Institute. Anyone can submit a request to bring this traveling exhibit to their organization. We charge a small fee in order to cover our expenses and ask a donation of some materials depending upon requests for complementary interactive activities. Organizations without a budget can also submit a request to us for a small grant to help cover the fee. Cost should not be a factor in the decision to bring this exhibit to your organization.