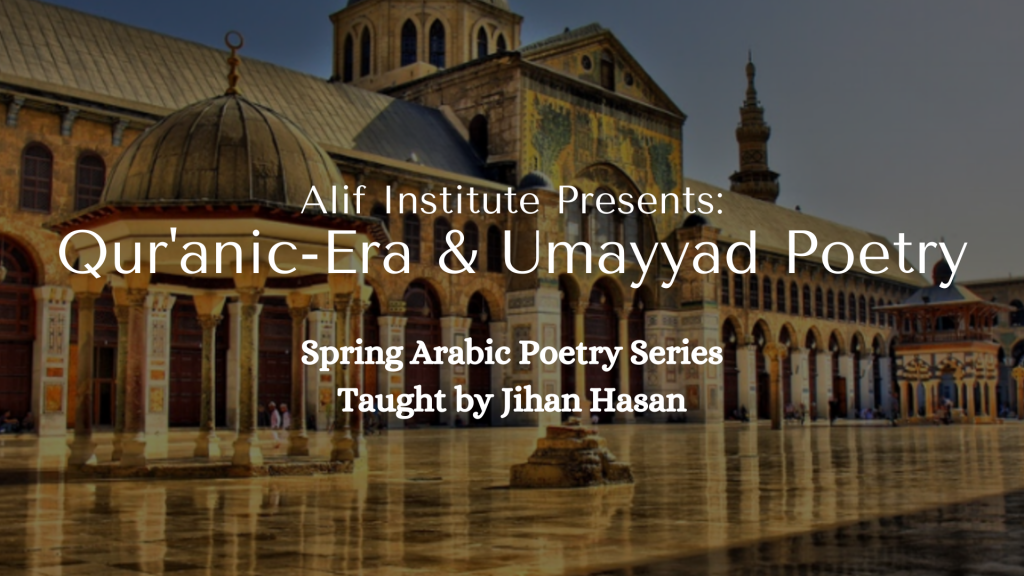 Session I
Qur'anic Era Poetry
March 18, 25, & April 1, 8
Thursdays, 7 pm – 9 pm
4 sessions, 2 hours/session

Session II
Umayyad Era Poetry
May 19, 26 & June 2, 9
Wednesdays, 7 pm – 9 pm
4 sessions, 2 hours/session
Each four-class session is $110/$130 for non-members

.
All classes are conducted virtually, via Zoom.
Intermediate to advanced level Arabic language proficiency required.
No prior background in poetry is required.

Click HERE to become a member.
Session I: Qur'anic Era Poetry
This mini-course highlights poetic continuity and change during the period of Quranic revelations in 610 CE and the Islamic conquests before establishing the Umayyad Dynasty in 661 CE. The Prophet Muhammad (PBUH), as mentioned several times in the Qur'an, was thought of by some of his contemporaries to be a poet or soothsayer. While the Quran denies such claims, indeed, the entirety of the Qur'an in is direct or indirect rhymed prose, quite possibly a new genre at that time. The Prophet of Islam also had a personal poet, Hasaan bin Thabit, who weaved Quranic verses into his poetry. Later, Quranic commentators, such as the famous al-Tabari, would use pre-Islamic poetry to decipher Quranic terminology in context. Join us in this fascinating course taught from a literary perspective and explore how Kaab bin Zuhair, Hasaan bin Thabit, and al-Hutay'ah are connected to modern poets Ahmad Shawki, Al-Busayri, Ahmad Fuad Nigm, and Mahmud Darwish.
Session II: Umayyad Era Poetry
This mini-course resumes the theme of continuity and change into the Umayyad period's height, the first Arab-Islamic dynasty, headquartered in Damascus. A time period of vast territorial expansion, the Umayyad Caliphate stretched from modern-day Morocco, Spain, and Portugal to China and India's borders. In the process, they adopted Arabic as the language of bureaucracy, initiating a vast writerly culture. Learn about Al-Khalil bin Ahmed al-Farahidi, the first to codify the complex meters of Arabic poetry; al-Farazdaq, Jarir, and al-Akhtal, known for their flyting poems (al-naqaa'id); Umar ibn Abi Rabi'ah, a pioneer in the ghazal literary form; and much more.
Please send us an email at info@alifinstitute.org for more information.
Tuesdays, Thursdays, Saturdays