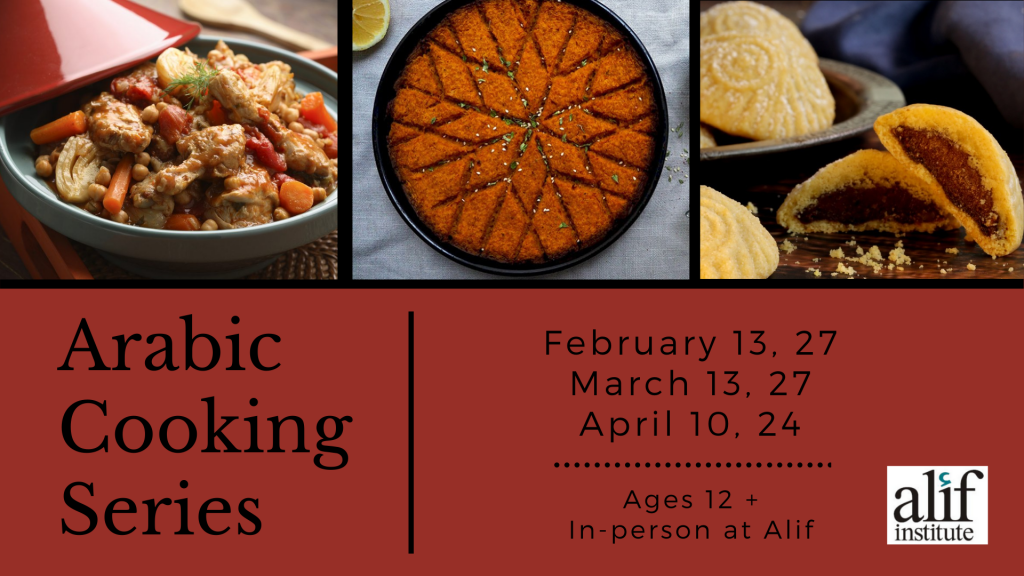 Join us this spring for some cooking fun!
Classes will be held in-person at Alif Institute.
Masks and social distancing are required.
Saturdays, February – April
Cost per class:
$30 per person/$25 for members

Couples/pairs (sharing one spot) – $50 / $45 for members
Sign up for three classes and receive a free country mug!

Free Cooking Demo: Palestinian Musakhan by Awad Awad
Saturday, February 20, 2 pm – 4 pm
At Refuge Coffee:
4170 E Ponce de Leon Ave NE, Clarkston, GA 30021
No registration required!

An ancient symbol of peace and survival against all odds, olive trees account for nearly 50% of Palestine's cultivated land. One of the ways Palestinians celebrate the olive harvest is through a dish called musakhan. Simple, delicious, and requiring some basic techniques, our version of musakhan is made from chicken, onions, sumac, naan, extra virgin olive oil (EVOO), almonds, and parsley. Yes, that is right. EVOO is the main ingredient in the dish and not merely a cooking oil. Pick up a bottle of organic Jerusalem EVOO ($25) and organic Jerusalem sumac ($10) to make your own at home.
Moroccan Cuisine for Valentines by Rhizlane Brachmi
February 13, 2021
5 pm – 7 pm
For adults
Nothing makes Valentine's Day more special than creating memories with your partner. This Valentine's Day, invite your significant other or best friend to join you in making a savory appetizer, crispy kefta-filled briouats, followed by a taste of popular Moroccan dishes, including spiced olives, tagine, couscous, etc. Oh yeah! Come with your sleeves rolled up and an empty stomach.
Lebanese Pumpkin Kibbeh for Lent by Angela Khoury and Teresa Abboud
February 27, 2021
2:30 pm – 4:30 pm
For Youth (12+) and Adults
Indigenous Christian communities of the Amharic, Arabic, Aramaic, and Coptic world are generally concentrated between the Nile and Euphrates Rivers, with a sizable diaspora worldwide, especially in the West. Great Lent is six weeks of reflection and fasting that prepares Christians for the Great Feast of Easter, referred to as "Eid el-Kabir." While individual and communal fasting traditions vary, one constant for those that fast during Lent is the abstinence from eating meat. As hymns of prayer and praise ring from monasteries and churches, vegetarian and vegan dishes have their Ode to Joy as well. Pumpkin kibbeh is a one of a kind Levantine dish where a pumpkin-bulgur dough is stuffed or layered with a tangy chickpea, onion, swiss chard or spinach, sumac, pomegranate molasses, and cumin filling. Variations abound. Our taste buds are dancing just thinking about the dish!
Libyan Cuisine by Muraiha Shtewi
March 13, 2021
5 pm – 7 pm
For Youth (12+) and Adults
Influenced by Mediterranean trade and the Italian occupation of Libya from the late nineteenth to the mid-twentieth century, imbakbaka is the quintessential one-pot pasta comfort food of Libyan cuisine. For the American palate, think of it as pasta with marinara sauce falling in love with a shipment of spices from the Amazigh and Arab North African Mediterranean coast. Imbakbaka, the onomatopoeia of the sound made by the bubbling of the tomato sauce, is one comfort food you don't want to miss. Familiar with a twist.
Cake decoration for Kiddos by Bana Marachi
March 27, 2021
2:30 pm – 4:30 pm
For kids 5 – 12 years old
Did someone say CUPCAKES! Bring your kiddos for a fun time decorating cupcakes. In one session, your junior chef will be on their way from frosting a cupcake with a butter knife to making beautiful pieces of art you will devour with your eyes before it magically and deliciously makes its way into your belly. Move over, Sprinkles Cupcakes; here come the Alifians!
Qatayef for Ramadan by Hadia Ibrahim
April 10, 2021
2:30 pm – 4:30 pm
For youth (12+) and adults
Holiday traditions are not complete without special occasion foods, especially desserts. Thus, Ramadan in the Levant, think of the Christmas spirit meeting Thanksgiving dinner for an entire month, is not the same without qatayef. One type of qatayef is made from small pancakes filled with cheese or nuts (walnuts, pistachios, or almonds), cinnamon, and sugar. Then closed into half-moon shapes, sealed, deep-fried or buttered and baked. After which they are dunked, dipped, or drizzled with a floral orange blossom and rose-scented sugar syrup — we dare you not to go back for seconds or even thirds!
Egyptian Cuisine by Reham Beshr
May 1, 2021
2:30 pm – 4:30 pm
For youth (12+) and adults
Maamoul in the Levant goes by kombe in southern Turkey, kleicha in Iraq, and kahk in Egypt and Sudan, is a stuffed shortbread traditionally served for Easter, Eid, and Purim throughout the Arabic-speaking world. Most fillings are made with spices and either nuts (walnuts, pistachios, or almonds) or dates. But in addition to nut and date fillings, Egyptians also have versions stuffed with agameya (a honey-walnut concoction) and loukoum (Turkish delight). Join us and become an expert in making the Suez Canal region version of this popular sweet.0
Tuesdays, Thursdays, Saturdays