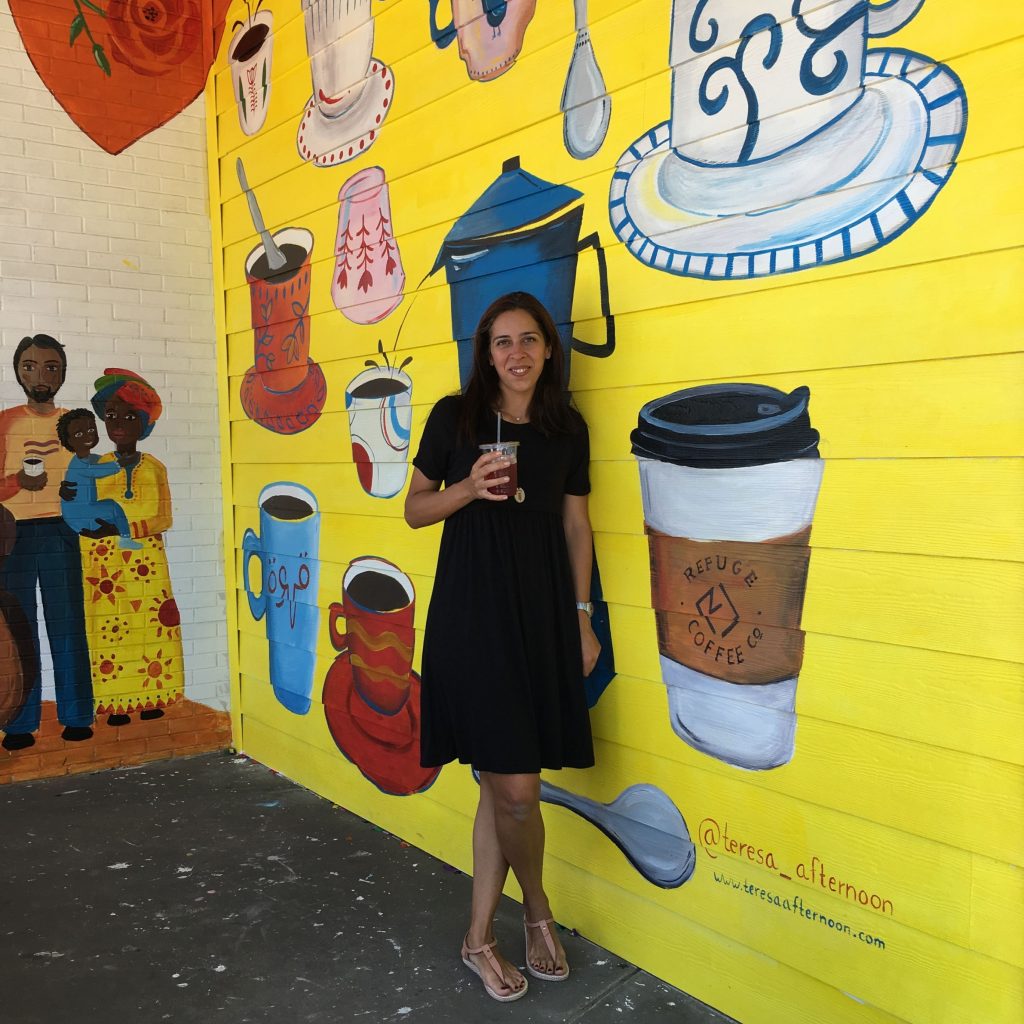 Teresa Abboud El Rassi's journey with Alif Institute began even before her move to Atlanta. She recalls becoming involved with Alif through her sister, Angela Abboud Khoury, by contributing her artistic talents to Alif's festivals and events. In 2018, Teresa participated in Alif's Annual Atlanta Arab Festival, where she sold her first artwork related to coffee and Lebanon. She believes her booth at the festival that year was a great start to her business, Teresa Afternoon. She adds that Alif is what made Atlanta feel like home even before it was. Teresa cherishes her time at Alif because it "is like a small country on its own and it gathers people from all around the world."
Teresa moved to Atlanta and now lives with her husband, Fuad El Rassi, who is a physician in the Atlanta area, and her two daughters, three and four years old. After volunteering at various events for several years, she is honored to currently serve on Alif's Board of Directors and continues to contribute her artwork and talent to many of Alif's programs.
In August, Teresa had the opportunity to paint a mural at Refuge Coffee Co. Her inspiration during this challenging time is the idea that art brings us together. The mural represents coffee cups from all nations, backgrounds, and ethnicities.
Refuge Coffee Co., in Clarkson, Georgia, is a place where individuals can come together as a community to enjoy fair-trade coffee. Their goal as a nonprofit organization is to "serve the global community in Clarkston through coffee-related job creation, job training, social networking, and commerce."
Teresa's mural at Refuge Coffee symbolizes togetherness – "everyone enjoys coffee, that is the commonality." Countries such as Turkey, Spain, Russia, Italy, Lebanon, Colombia, and more are represented by their traditional coffee cups, but the one thing they all share is their content – coffee. Teresa truly believes that coffee unites us as people. In addition, coming together for coffee is a way to share and welcome others to our cultures. "We all are different, and we drink coffee."
In addition to her mural, Teresa has been offering weekly virtual art classes. Despite difficult times and not being able to be together in-person, Teresa found a way to continue expressing her passion and spreading joy to others. Her virtual art classes are a way to spend quality time with family while working on art projects that enrich the mind and heal the soul.
Teresa Afternoon comes back to the Atlanta Arab Festival each year in addition to participating in other events around the metro-Atlanta area to share with us her new collections and art pieces related to Coffee, unity, and cultures. To learn more about her work, you can find Teresa on Instagram at @teresa_afternoon or Facebook @TeresaAfternoon. You can visit her website at www.teresaafternoon.com.
Tuesdays, Thursdays, Saturdays