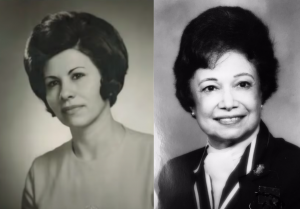 In January, we were all saddened to hear of the passing of two Arab American women who left their marks on the Atlanta Arab American  community, Dr. Mary Zumot and Mrs. Paulette Hatoun. In honor of Arab American Heritage Month, we look back to the foundation of our community to celebrate the lives of these extraordinary women. It was my pleasure to speak with several long-standing members of the community to understand the multiple ways in which these two ladies touched many lives.  
Dr. Mary Zumot: 
Dr.  Zumot  was an educator. She taught political science at various colleges.   She moved to Atlanta after marrying the Rev. Dr. Fahed Abu Akel in 1980.  Dr. Zumot was a board member of the National Association of Arab Americans and a member of the American-Arab Anti-Discrimination Committee. She was also one of the founding members of the Arab American Women's Society of Georgia (AAWSG) and the Arab American Business and Professional Association.  Mary served as president of AAWSG from 1989-1991. 
Dr.  Abu Akel adds that Mary was an avid advocate for social justice, even during her younger years in university.  He says that Mary's first question after moving to Atlanta was whether or not there was a local Arab community. Mary became involved with AAWSG in order to promote teaching the Arabic language, educating the public about the Arab people and Arab culture. 
Mrs. Ghada Muhanna, a founding member of AAWSG and Alif Institute, indicates that "AAWSG will always be grateful to Mary for the important role that she played in securing a venue for the society's Arabic classes in collaboration with the continuing education program at Mercer University. Those classes have connected us to many Arab American families in Atlanta." The Arabic program of AAWSG later became the foundation of Alif Institute's Arabic Language Program.  
Additionally, Ghada says, and as the Dean of International Students at Mercer University, Mary facilitated the cultural adjustment of international students and made them feel at home with her extra concern and care. 
Mrs. Eman Al Khudairi, a friend of Mary, adds that "Mary was a community leader, a human rights advocate, a mentor, and a role model. She inspired many with her work and contributions to our community and to the world."  
 Mrs. Paulette Hatoun:  
Ghada Muhanna met Paulette Hatoun through the St. John Chrysostom Melkite Church, a place where she had many friends and was an active members for over 40 years. Paulette additionally "fell in love" with the Arab American Women's Society of Georgia (AAWSG) and joined the organization in 1986. She became a dedicated member and served as the treasurer for many years. 
Paulette is survived by her three children, Nicole, Elias, and Antoine. Elias says that his mother lived an interesting life. She was especially proud of her service in WWII and was stationed in Cairo, Egypt. After moving to New York, she worked for Coca Cola for 15 years and continued to drive a car until the age of 95. Paulette loved spending time with her husband, George.
 The community loved and respected Paulette. Mrs. Nawal Araim (AAWSG) observed that "Paulette lived a good life. She was a joy to be around, and we will never forget her smile." 
Paulette was well-known in her community for her beautifully knitted sweaters and scarves. "Almost every pregnant mother at our church would receive her 'trademark' baby sweater" says her friend Mrs. Matilda Ghawi.  
Ms. Farah Kashlan (AAWSG) says that "we will always remember Paulette's generous soul and love for the children."  
 The legacy these two women left will remain with us long after their passing. May their memory always be a blessing.
Tuesdays, Thursdays, Saturdays