12 pm – Opening Flag Ceremony & Welcome
12:30 pm – Shababba Performance by Loqman Salem
12:50 – Stand-Up Comedy by Amine Alaoui
1:15 pm – Puppet Show:
Aldo Meets Aragoz: The Birth of Two Fools
2 pm – Omar Offendum
3 pm – Karim Nag

3:45 pm – A Taste of Arabic Folkloric Fashion
12:15 pm  –  Joshua Katreeb, Piano Performance
1 pm  –  Opening Flag Ceremony & Welcome
1:20 pm  –  Al Fursan Dabkeh & Zaffah Group
1:45 pm  –  Matias Hazrum, Tabla Performance & Loqman Salem, Shababba Performance
2 pm  –  Omar Offendum
3 pm  –  Karim Nagi
3:45 pm –  A Taste of Arabic Folkloric Fashion
4:30 pm  –  Puppet Show:
Aldo Meets Aragoz: The Birth of Two Fools
5:30 pm:  Closing Flag Ceremony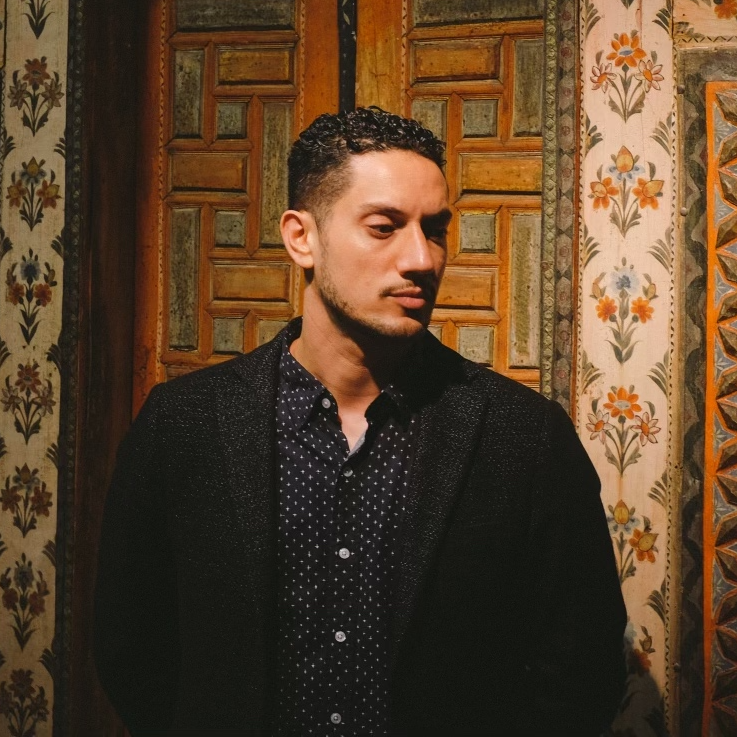 Omar Offendum is a Syrian-American rapper / spoken word artist. Known for his unique blend of Hip-Hop & Arabic poetry, he's been featured on prominent world news outlets, lectured at a number of prestigious academic institutions, collaborated with major museums & cultural organizations, and helped raise millions of dollars for various humanitarian relief groups. Offendum was recently named a Kennedy Center Citizen Artist Fellow, an Arab America Foundation "40 Under 40" award recipient, and a member of both the Pillars Fund cohort for Muslim Narrative Change & the RaceForward Butterfly Lab cohort for Immigrant Narrative Strategy. He currently resides in the great state of New York with his wife & two little children, while daydreaming about the jasmine tree-lined streets of Damascus.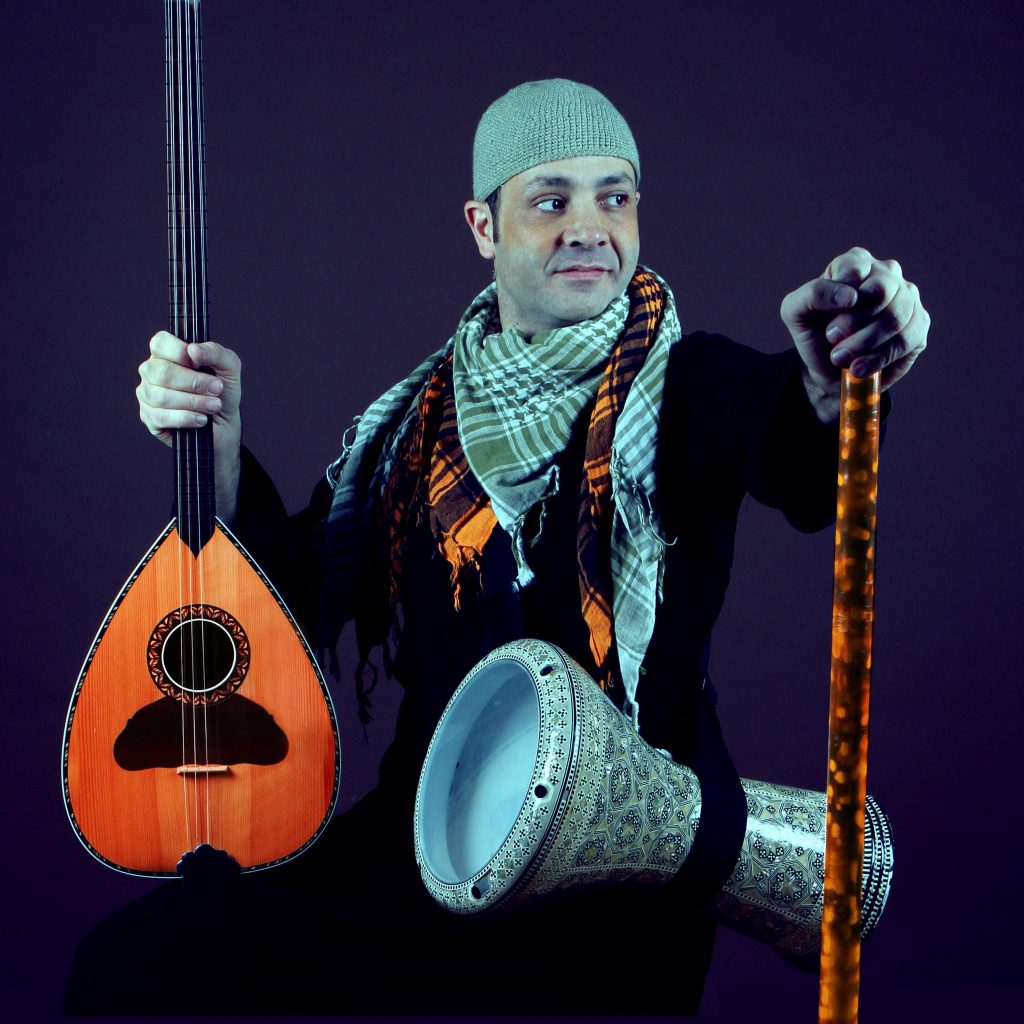 Karim Nagi is a native Egyptian immigrant to the USA, and a true crossover artist uniting the Arab tradition with the global contemporary world. He has released fourteen CDs, ranging from traditional Arab music to fusion and electronica. He has authored instructional videos for Arab percussive instruments and Arab dance styles. As a dance and drum teacher, Nagi has taught in dozens of festivals in the United States, Asia, Europe and Cairo, as well as most major Arab Culture festivals in the USA. He is also a public speaker with a TEDx talk.
He taught at the New England Conservatory of Music for 5 years, and has lectured and presented at Harvard, MIT, Yale, Bowdoin, Princeton, Stanford, Berea, William & Mary, Georgetown, plus Bunker Hill & Attleboro Community Colleges. He has lectured internationally on Arts & Diversity at Kaoushiung (Taiwan) University, Beijing University, and University San Francisco de Quito Ecuador. Additionally, Karim Nagi's Arabiqa program has conducted over 400 school assemblies across America, exposing young audiences to Arab traditional arts.
His most recent project "Detour Guide" incorporates English language storytelling with Arab music & rhythm, along with graphic & video art, to describe the experience of Arabs life & culture. Over the past 4 years Nagi has been the beneficiary of two Doris Duke Grant for the Islamic Arts through the Virginia Tech "Salaam" project and Young Audiences of New Jersey "United We Create". He has also just been re-elected for a second term to the board of directors for Chamber Music America. In September he gave a TEDx Talk "The Tambourine, My Partner is Diplomacy & Disruption" which can be seen on the official TED website.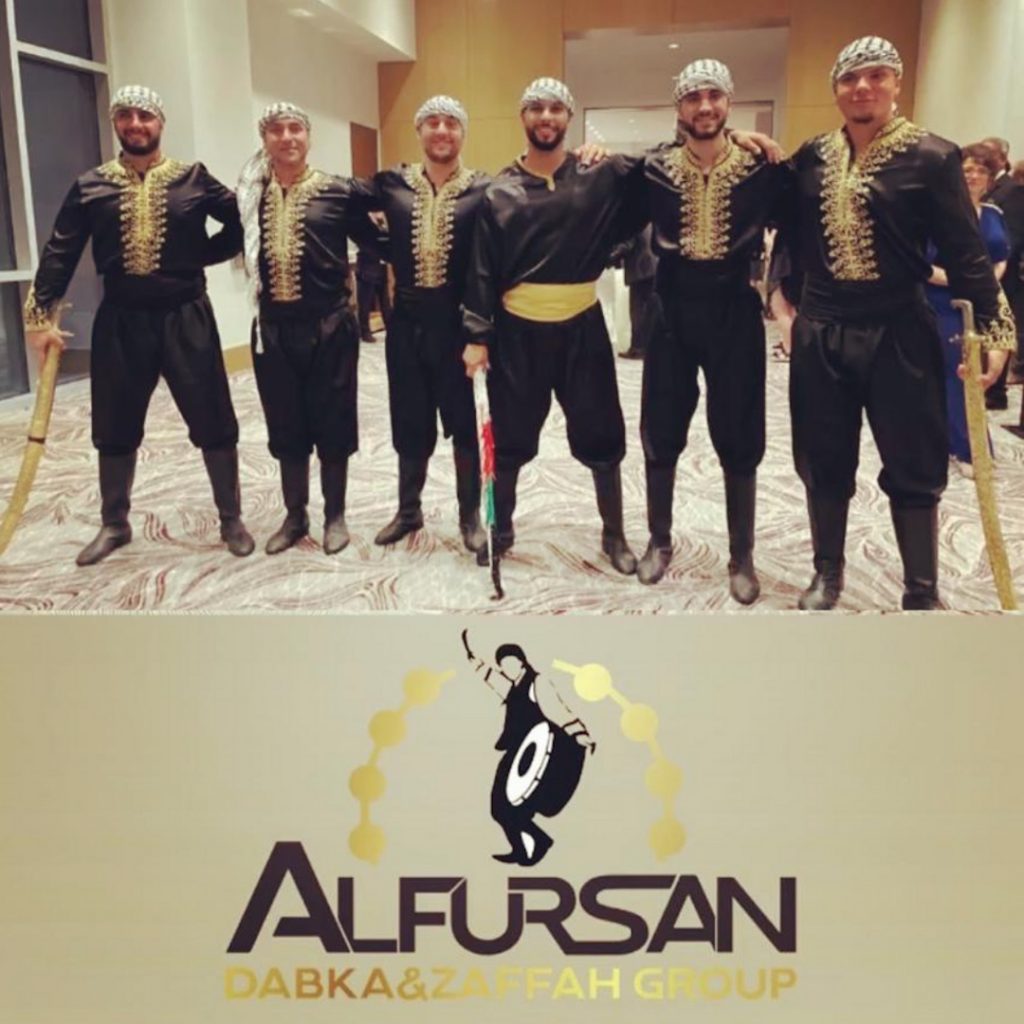 Al Fursan Dabka & Zaffah is a local, traditional dance group that travels all over the country and beyond to perform at weddings and celebrations.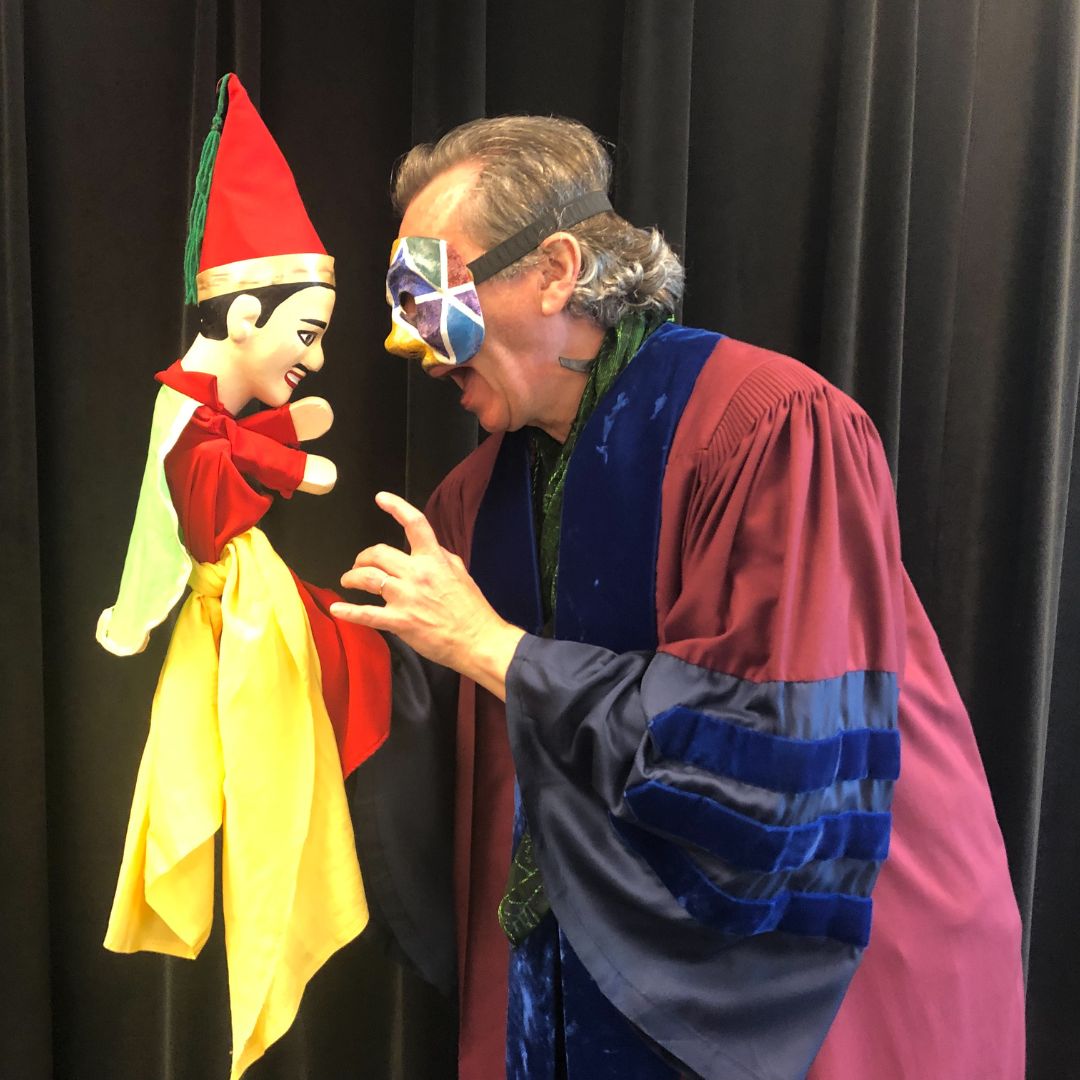 Presented simultaneously in Arabic and English, "Aldo Meets Aragoz: The Birth of Two Fools" tells contrasting but related tales of how the Egyptian Aragoz Puppet came to be a radical, counter-authority, joke teller and how the European Clown/Fool served a similarly serious comic purpose in the middle ages.  In this show, a clown meets a puppet and they share their stories.  They are two comic characters who share outrage at injustice. Although both stories have roots in tradition and have been told by other performers, most notably the Italian playwright Dario Fo, the version presented for the 15th Annual Atlanta Arab Festival is peculiarly the creation of Aldo Magnifico (Donald McManus) and master puppeteer, Nabil Bahgat.
Dr. Nabil Bahgat Ahmed is a writer, a theater director, a puppet maker, and a university professor. Nabil founded Wamda Group, a band for Egyptian shadow and puppet shows, in 2003. He directed and produced 36 theatrical works based on shadow puppets and Aragoz, and gave numerous workshops in more than 30 countries. Additionally, Nabil has established a permanent corner for Egyptian shadow puppets in the Atlanta Puppet Center here in Georgia!  He has more than 10 books, including the Egyptian Aragoz which is the first documentary of puppet theater published in both Arabic and English, as well as a recent book on Egyptian Shadow Puppetry where he studied the history, techniques, philosophy, and strategies of shadow puppetry since its establishment. 
Donald Cameron McManus was born in Montréal, Quebec, and has worked professionally as an actor, director, musician, and clown in Canada, the U.S., Asia, and Europe. His research interests include comedy, popular entertainment, clown, twentieth-century theatre, foreign plays in translation, scenography, interculturalism, and multi-media performance. Dr. McManus completed a BA at The University of Toronto and was awarded the Donald Matheson Springer Fellowship to pursue graduate studies at The University of Michigan, Ann Arbor where he completed his Doctorate in 1998. His English translation of Man and Gentleman by Eduardo De Filippo was published in Forum Italicum in 2001. His book No Kidding! Clown as Protagonist in Twentieth-Century Theater was published by the University of Delaware Press in 2003 and was selected as an Outstanding Academic Title in 2004. Professor McManus has also published articles for The Journal of Drama Studies, Scenography International, Australian Feminist Studies, The Routledge Companion to Actors' Shakespeare, and The Routledge Companion to Directors' Shakespeare. Donald has participated as an actor, director, dramaturg, and acting coach at Theater Emory since coming to Emory in 2006 and began serving as Artistic Director in Fall 2020.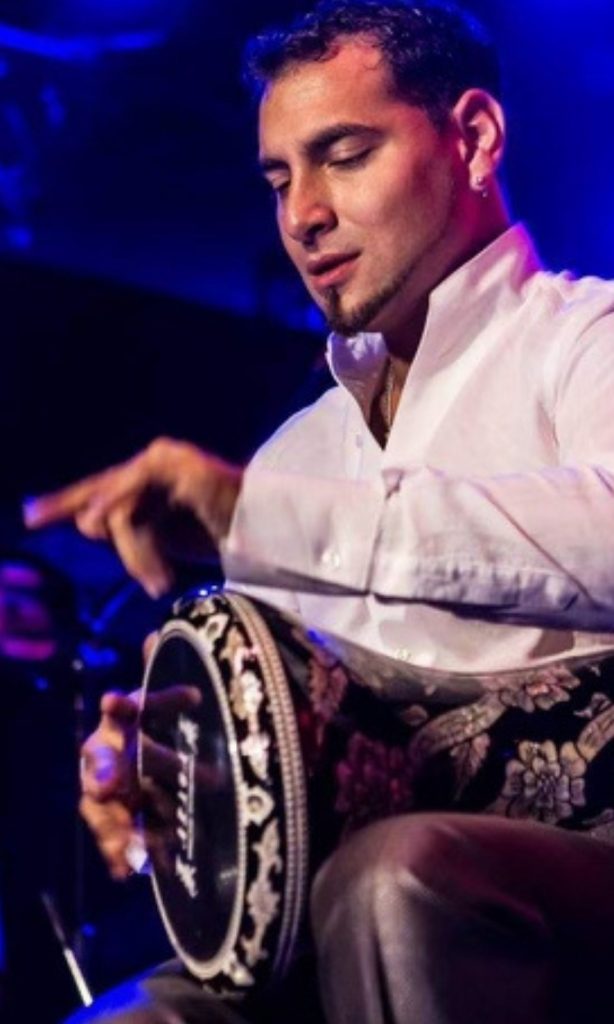 MATIAS HAZRUM is a world known arabic percussionist, musician, teacher and composer. He was born in Argentina (Buenos Aires), but his origin comes from Syria. He started learning percussion since a very early age – when he was 3 years old.
​
MATIAS is a high level professional not only in playing the drum, but also in playing keyboard and such instruments of arabic percussion as mashar, daff, rek and others, which shows a deep knowledge of arabic music and great professionalism in this field. His first and most important teacher was Gaston Chaade from Argentina who is of an arabic origin as well.

​It's been 15 years that MATIAS is sharing his talent and knowledge with the students (musicians and dancers) in Argentina and all over the world. He worked together on one stage with such great names in the Bellydance world as Saida (Argentina), Amir Thaleb (Argentina), Virginia Mendes (USA), Jillina (USA), Amar Gamal (USA), Sharon Kihara (USA), Yana Tsehotskaya (Ukraine) and many more.

​Nowadays MATIAS works and travels around the world with Anna Borisova (Russia) as they share the same love and passion for the music, tastes and opinions and they enjoy immensely working together and sharing the precious moments on stage in improvisation and art appreciation.

​During many years MATIAS was a member of Mario Kirlis orchestra and was the leading drummer in this band. Also during that time he was composing many drum solos and musical pieces which were put in famous Mario Kirlis' CDs.

​MATIAS worked not only with bellydancers, but also he played a lot for the singers and artists from the arabic world. At present time MATIAS has his own school "PERCUSSION DANCE SCHOOL" in Buenos Aires and his own orchestra "PERCUSSION DANCE GROUP", they are travelling all over Argentina and other countries with their shows.

​MATIAS is a composer of numerous uncomparable drum solos which are used by bellydancers all over the world. His music is unique and very creative because he uses a non-standard approach in creating his unforgettable compositions. MATIAS has his own remarkable style which differs him from other drummers. This style can be described as very creative, strong, energetically powerful, unique and charismatic. He is always playing with his heart and soul because he is really in love with this art and what he is doing. MATIAS is not just a drummer, he is a musician who is creating new masterpieces all the time. Nowadays he also concentrates on creating not only drum solos, but mejanse, baladi and other types of music.
​
MATIAS has already visited such countries as Mexico, Chile, Colombia, Peru, Venezuela, Canada, USA, Italy, Spain, France, Germany, Austria, Hungary, Japan, Taiwan, Korea, China, Hong-Kong and many more. He is happy to share his art with the people all over the world!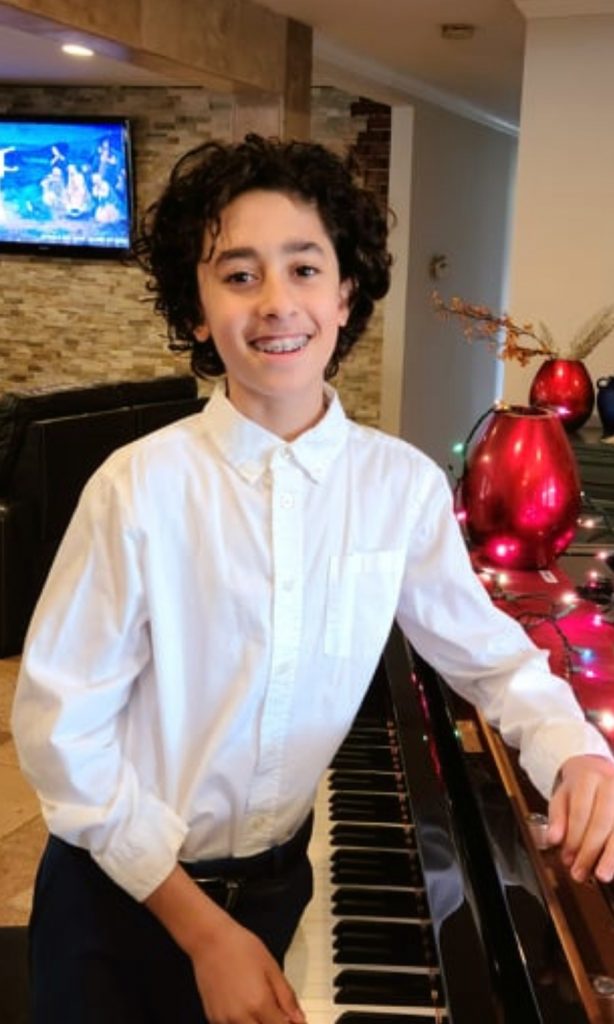 Joshua Katreeb is an up-and-coming prodigy songwriter of various genres including American folk-pop, Christian, classical, hip-hop, and romance. Joshua's passionate compositions feature honest and emotive deliveries, reminiscent of Chopin, Mozart, and Beethoven. He has composed over 1000 classical, original songs in the course of just 3 years (as of May 2022). Joshua is also an amazing performer, passionate about performing live, improvising, and covering songs using new styles and beats.