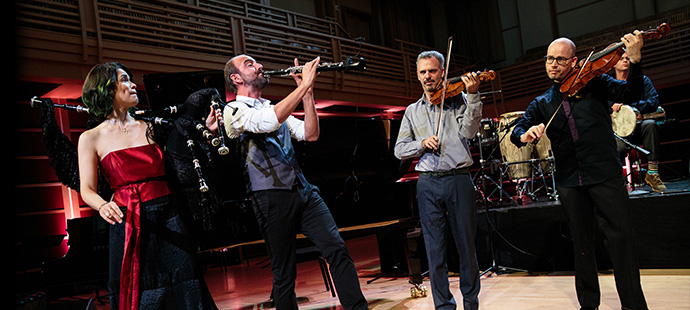 ---
a
Movie & Dinner:

The Music of Strangers
Saturday, September 29, 2018
Dinner @ 6:30 PM  |  Film @ 7:00 PM
Featuring discussion led by Dr. Andrea Pérez Mukdsi, 
Assistant Professor of Spanish at the University of North Georgia.
The movie is free and open to the public with RSVP by 9/26/18.
Catered dinner by Nelly's Home Cooking available:
$18 for members/$20 for non-members with purchase by 9/26/18.
For more information: 770-936-8770 or info@alifinstitute.org. 
---
"The intersection of cultures is where new things emerge."  – Yo-Yo Ma, cellist, and founder of the Silk Road Ensemble
"Strangers" is only superficially about music. It's also about cultural identity; the meaning of home; the debt we owe our ancestors (and fellow humans); and the source of creativity."  – Stephanie Merry, Washington Post
About the film:
Playtime: 1 hr, 36 mi  |  See the FILM TRAILER. 
Over the past 16 years, an extraordinary group of musicians has come together to celebrate the universal power of music. Named for the ancient trade route linking Asia, Africa, and Europe, The Silk Road Ensemble, an international collective created by acclaimed cellist Yo-Yo Ma, exemplifies music's ability to blur geographical boundaries, blend disparate cultures and inspire hope for both artists and audiences.
The Music of Strangers: Yo-Yo Ma and the Silk Road Ensemble, the latest film from the creators of the Oscar-winning documentary 20 Feet from Stardom and the critically-hailed Best of Enemies, follows an ever-changing lineup of performers drawn from the ensemble's more than 50 instrumentalists, vocalists, composers, arrangers, visual artists and storytellers as they gather in locations across the world, exploring the ways art can both preserve traditions and shape cultural evolution.
Blending performance footage, personal interviews and archival film, director Morgan Neville, and producer Caitrin Rogers focus on the journeys of a small group of Silk Road Ensemble mainstays from across the globe to create an intensely personal chronicle of passion, talent, and sacrifice. Through these moving individual stories, the filmmakers paint a vivid portrait of a bold musical experiment and a global search for the ties that bind.
Tuesdays, Thursdays, Saturdays