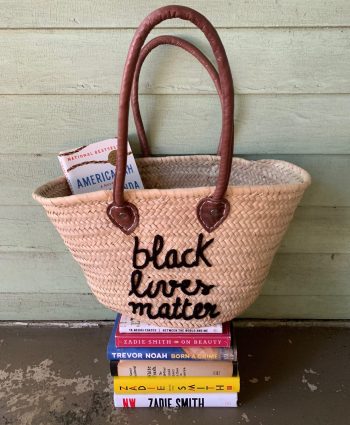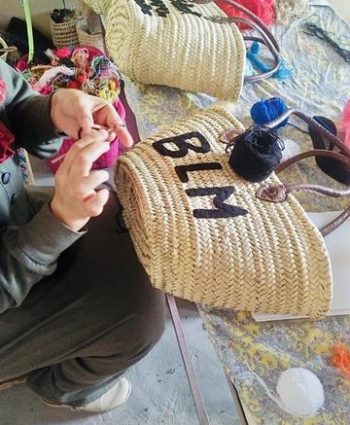 Following the civil unrest and anguish of the past few months, organizations far and near have sought to play their part in supporting social justice through the Black Lives Matter Movement. La Maison Maslouhi is no exception.
Founded by Mustapha and Sarah Ezzarghani in 2012, Maslouhi is an organization dedicated to "making the career of being an artisan a viable one by providing our artisans with a positive work environment, steady work, leadership and training opportunities, a voice in the creative process, and benefits." Simply, their organization allows artisans in Tameslouht, Morocco to explore their passions while also making a living.
Mustapha grew up in Tameslouht and witnessed firsthand the difficulties of being an artisan: the industry is highly driven by middle-men and exploits artisans who depend heavily on the tourist market. Sarah, too, spent time in Tameslouht during her service in the Peace Corps. She has a passion for art history and helping others. Together, Mustapha and Sarah co-founded La Maison Maslouhi in order to give back to artisans in need.
Their latest project is inspired by the recent protests and the Black Lives Matter Movement. Since its foundation, La Maison Maslouhi has always found a way to cater their products to their audience – a way to personalize at various pop-up festivals and events by incorporating language, culture, and the arts. Their newest collection includes their popular hand-woven baskets with leather handles and the option to include hand knitted "Black Lives Matter" or "BLM." Each basket is entirely handmade takes between 3-5 hours to complete depending on the intricacy of the design. Maslouhi has pledged that 100% of the proceeds from these baskets will be donated to two American organizations promoting social justice and quality: The Athens Anti-Discrimination movement in Athens, GA and the S.H.A.R.P Foundation in Benton Harbor, MI. Mustapha & Sarah both have firsthand experience with these two organizations and their impact.
As of July, Maslouhi is proud to announce that over 50 baskets have been ordered, with donations to the aforementioned organizations totaling over $600. Maslouhi is currently overseeing one final initiative to increase donations: a raffle of one of the "Black Lives Matter" cursive lettering market baskets. Those interested in being entered for the raffle can donate in increments of $5; each donation of $5 will result in their name being entered to win once ($10 =2 entries, $15 = 3 entries, etc.). Maslouhi is accepting donations through both PayPal (hello@lamaisonmaslouhi.com) and through Venmo (squinn0401). Donations are accepted through Saturday, July 18 th at 11:59pm EST. On Sunday morning, the Maslouhi team will count all of the entries and randomly select one winner. The winner will be announced during an Instagram Live session (@_maslouhi_) at 12:00pm EST on Sunday, July 19th. Maslouhi has recently grown to hire some of their artisans full time, providing them with job security in addition to the ability to creatively express their interests. Their global platform is a means for "socially conscious consumers to purchase ethically handmade products directly from artisans who benefit from a formalized business partnership."
Along with the onus of having a global platform, Sarah highlights the importance of being an organization that is "inherently trying to fight for systemic change, particularly in the artisan sector." She affirms that "systemic change is something that is important to us." In response to their most recent efforts, they have received overwhelming positive and uplifting encouragement from their local community. Sarah adds that "people have really loved the ability shop wholesale from Moroccan artisans right here in Athens, GA."
For more information about this and other La Maison Maslouhi initiatives, please visit their website at https://lamaisonmaslouhi.com.
Tuesdays, Thursdays, Saturdays