Dear Alif community,
One of the beautiful things that comes out of a crisis is that you realize how strong and resilient you can be when you work together. We are in awe of the creativity, kindness, and heroism we are witnessing as the world faces this new challenge.
It has been over a month since Alif made the hard decision to move our activities completely online in response to the COVID-19 situation. Words cannot express how much we miss you all. Updates about the work our amazing staff are doing and how YOU can get involved can be found here, on our website, and on our Facebook and Instagram pages.
In the meantime, we would like to help support our local restaurant community. Food is something that connects us all and brings us great comfort. Our local restaurants have always been there for us, and now we need to be there for them! 
The following is a list of restaurants and groceries that are open for business. Please consider getting take out or some special groceries to make delicious meals at home. And be sure to visit our social media for wonderful recipes every Monday!
Thanks to everyone who replied to our initial posting of this list! Please continue to let us know more details about the businesses you know and love so that we can continue to spread the word. If you know of a restaurant or market that is open for business but not included here, please send an email to info@alifinstitute.org as we continue to update this information.
Be safe, be strong, and be connected.
Sincerely,
The Alif Team
Metro-Atlanta, Arab-Owned Restaurants & Grocery Stores
(Updated 4/21/20)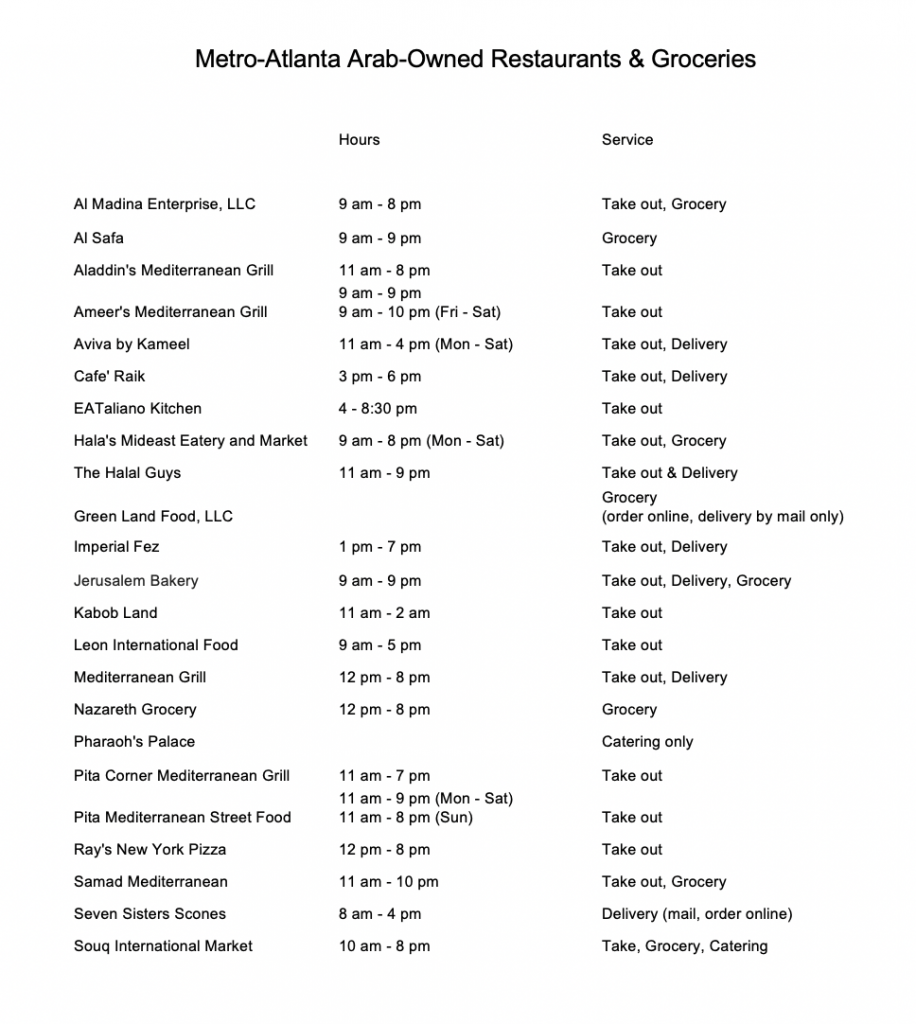 Tuesdays, Thursdays, Saturdays