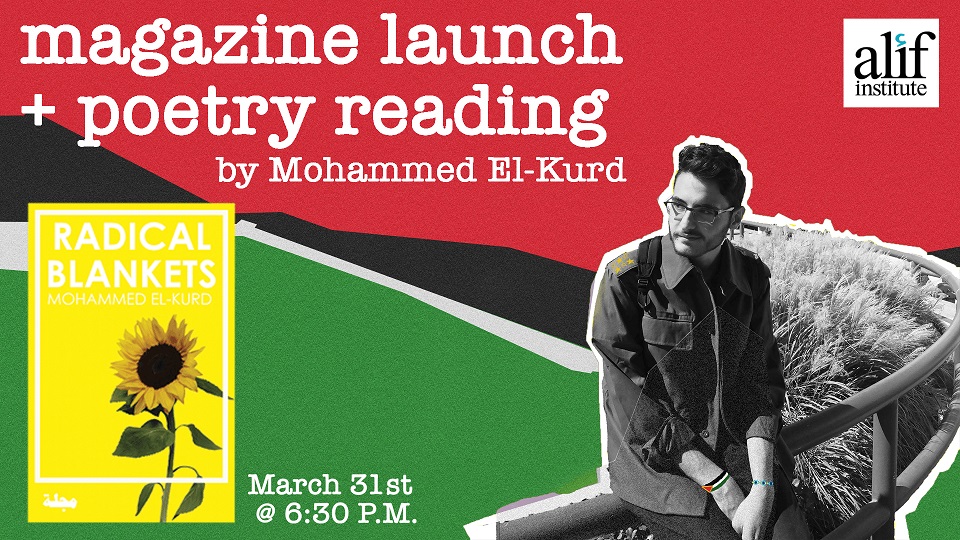 Saturday, March 31, 2018
6:30 pm – 8:30 pm
Free & open to the public
Free dinner will be provided.
PLEASE RSVP to info@alifinstitute.org by 3/30/18 to reserve your seat.

Alif Institute is proud to support new writers and artists! 
Please join us for an interactive evening to celebrate Palestinian poet and artist, Mohammed El-Kurd. Mohammed will read from his first solo publication, Radical Blankets, and copies will be available for sale.
About the poet:
Mohammed El-Kurd is a nineteen-year-old poet and writer from Jerusalem, Palestine. He was first exposed to the public at the age of 11, as the protagonist of numerous documentaries, including the Peabody-award-winning film, My Neighborhood (2009), which focused on settlements in East Jerusalem and Mohammed's family 's story of dispossession. He continued to speak out about the injustices he saw around him, telling audiences his story at the European Parliament and at multiple American universities, including New York University. 
Mohammed has a large online following. He is a permanent writer for Fallujah Magazine and is published in The Guardian and Medium. His writing, especially his poetry, has sparked media attention and praise – including numerous features in international outlets such as The Huffington Post and Al Jazeera. The award-winning Lebanese author, Joumana Haddad, said of his work: "I can assert that during my long years of interaction with the Arab literary and cultural scene, …I have never encountered a young voice as talented and unique as Mohammed El-Kurd's." 
Mohammed writes in both Arabic and English. He considers writing in English as extremely important because the narrative of the Palestinian people has been hijacked, shut down, and manipulated by the English-language press. He writes about the intersections of the Palestinian struggle with resistance movements around the world, social norms and gender, Islamophobia, and the complexities of the Palestinian identity. Mohammed is currently in his second year at Savannah College of Art and Design in the United States. He hopes to publish his first book of collected poems, titled RIFQA, in honor of his grandmother, in the coming year.
Tuesdays, Thursdays, Saturdays