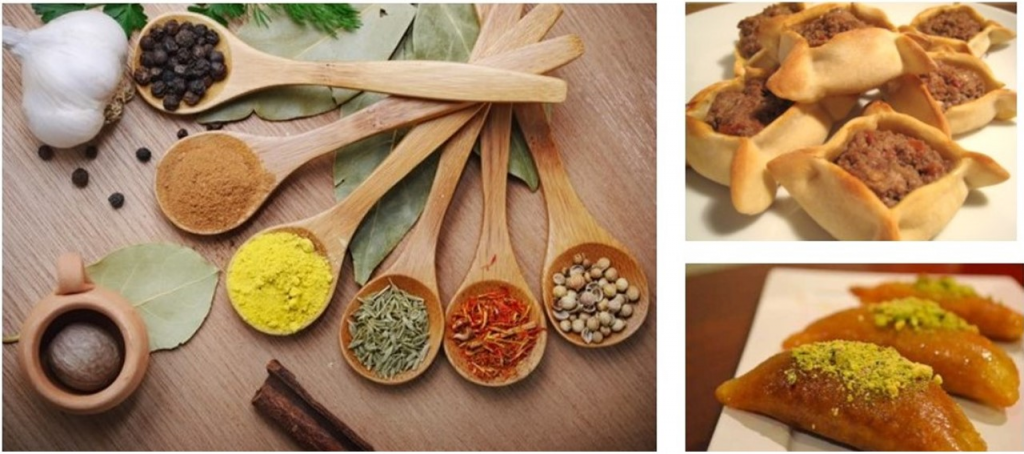 Saturday, June 23, 2018
12:30—2:30 PM
Per Class: $25/ $22 for members
MENU:
Sfiha – Sfiha Pastry famously known as 'Arab Pizza', originated from the Arabian Peninsula and Levant. Traditional sfiha are open-faced meat pies made with ground mutton. 
These open-faced Arab meat pies are made with Arabic-styled dough.
Qatayef – Qatayef is the general name of the dessert as a whole, but more specifically, the batter. The result of the batter being poured onto a round hot plate appears similar to pancakes, except only one side is cooked, then folded. The pastry is filled with either unsalted cheese or a mixture of any of hazelnuts, walnuts, almonds, pistachios, raisins, powdered sugar, vanilla extract, and cinnamon. It is then deep-fried or, less commonly, baked and served with a hot syrup or sometimes honey
Traditional Arabic cuisine taught by experienced teachers presented in a friendly, fun, and culturally rich environment at Alif Institute!
Learn to prepare a full delicious meal and dessert and sample all the food prepared.
Our teachers are experts who have mastered the art of preparing delicious Arabic food and are happy to share their menus and tips!
Reservations and prepayments are required. Places are limited and a minimum of 4 participants is required to hold each class.
Beginners are welcome! Classes are open to all!
Tuesdays, Thursdays, Saturdays