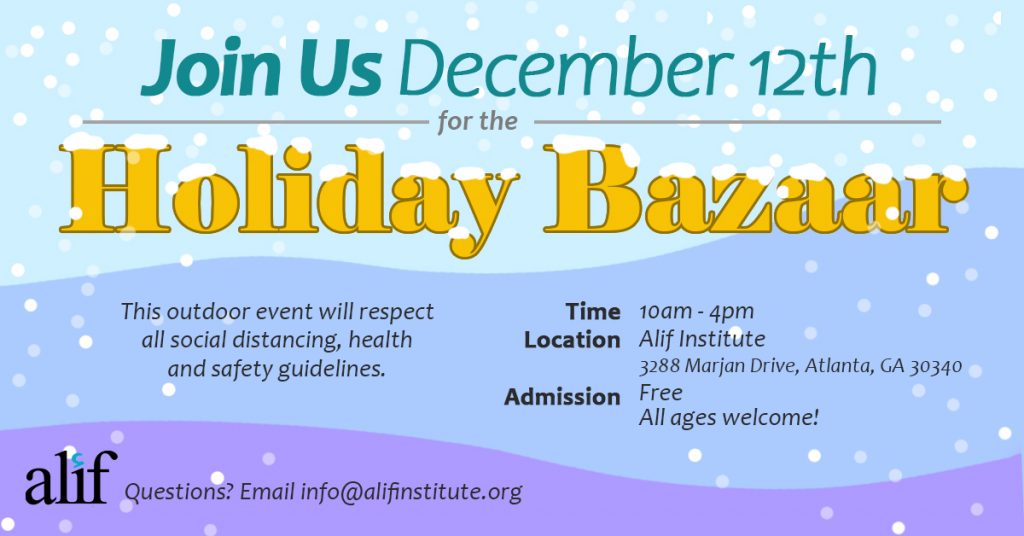 Mark your calendars for December 12, 2020, from 10 AM – 4 PM! Alif's 1st Annual Holiday Bazaar will be the perfect place to interact with local artists and small business owners, and to find holiday gifts for your loved ones!
This outdoor event will keep physical distancing and sanitary guidelines as a priority and masks will be required, so you will be able to browse the items for sale and interact with the community safely. Stay on the lookout for more information about the Bazaar as the date approaches!
Interested in renting a booth to sell your handmade items? Contact info@alifinstitute.org for more information or fill out the form below for the application.

The Holiday Bazaar is designed to offer Alif visitors a chance to purchase handmade items and homemade desserts. This opportunity to showcase local Atlanta work is perfect for the season of gift-giving! Interested in renting a booth?
Please fill in the following information and click submit below.
Applications must be received by November 28, 2020.
Booth Description & Pricing:
Each booth will include (1) 10'x10' tent, (2) 2'x4' tables, and (2) chairs.
General Public $30 / Alif Member $25
Merchandise Disclaimer:
All merchandise must be handmade or homemade. Please note that the following items are prohibited: any smoking related material; any alcohol; any hot food; or any political material. Alif Institute reserves the right to approve the line of products presented by each merchant. 
Please note that masks and social distancing will be required.

Tuesdays, Thursdays, Saturdays